Burl Pedestal Table
Ron Shanor
Pedestal table or end table.
SOLD
Custom Order
Out of stock
Ask the Artisan
About this piece
Rustic burl pedestal table in a rich golden color. Top of a sliced lodge pole with a sprice burl pedestal below.
Details
Dimensions
15'' D X 21'' W X 28'' H
Weight
25 lbs
Color/Finish
Early American
Made of
Sliced Burl, Burled Pole
Care instructions
Gently wipe with a clean cloth.
SKU
RS014
Ron Shanor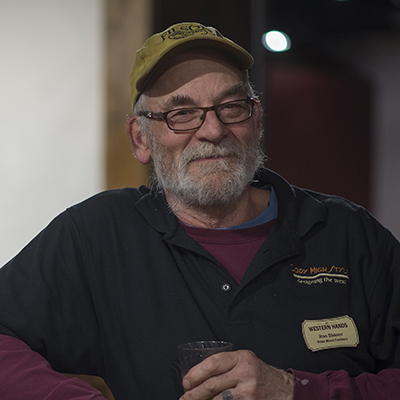 ABOUT THE ARTIST
Ron lives in Cody, WY, the heart of the western design movement. With his home only fifty eight miles east of Yellowstone National Park, the natural beauty of his surroundings offers a wellspring of inspiration which is reflected in his work. Each piece of furniture is unique and carefully hand-crafted using lodgepole pine, aspen, and burl. Ron spends part of his summer selecting and gathering just the right pieces of wood for projects that will be built during the winter months.