Small Walnut Desk with Spalted Maple Drawers
Steve Winer
$9,286.00
Custom Order
1 in stock
Ask the Artisan
About this piece
Colorado based wood designer Steve Winer offers an exquisite multi-colored chocolate brown andmaple brown hand carved desk. The veined three drawer style design continues to fascinate and inspire working productivity throughout.
Details
Dimensions
26'' D X 55'' W X 30'' H
Weight
125 lbs
Color/Finish
chocolate brown, auburn brown
Made of
walnut, spalted maple
Care instructions
Gently wipe with a clean cloth
Shipping & Delivery
Standard UPS
SKU
SW006
Steve Winer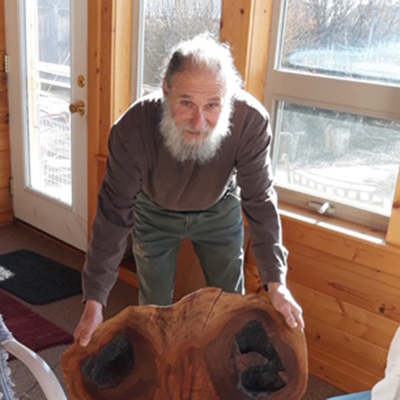 ABOUT THE ARTIST
Steve has been an artisan and builder in northern Colorado for more than thirty years. Many of his life experiences have influenced his design style. Growing up, he was exposed to the work of an uncle who built Queen Anne style furnishing. From this influence came a design style that combines the simplicity of the Arts and Crafts style with touches of contemporary western design. Today, Steve creates designs primarily by eye, feel, instinct, intuition and impulse, each piece is one-of-a-kind, made with the goal of improving on the raw materials to create texture, warmth, and eventually a beautiful expression.