Handwoven Rug
Rosemary Lowther
Ruby, gray and indigo, hand-woven rug.
$750.00
Custom Order
1 in stock
Ask the Artisan
About this piece
Navajo style, handwoven rug.
Details
Dimensions
72'' D X 46'' W
Color/Finish
Gray, Ruby, Indigo, Black
Made of
100% Wool
Care instructions
Dry clean only.
Shipping & Delivery
Standard UPS
SKU
RL003
Rosemary Lowther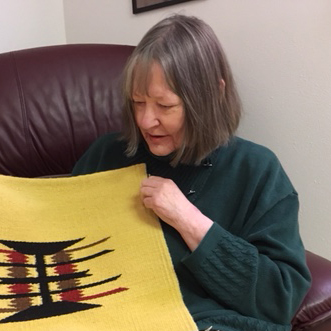 ABOUT THE ARTIST
Fascinated as a child by weaving demonstrations at Plimoth Plantation, Wiillamsburg and Sturbridge Village, as an adult Rosemary pursued her interest in weaving by taking vacations from her publishing job to learn the craft. She learned to weave in Clancy, Montana, attended Parsons School of Design, studied Navajo weaving in New Mexico, took a wide variety of classes at Brookfield Craft Center in Connecticut fiber arts, including basketry as well as weaving, and even went to Banks Island in Canada to work with qiviut (musk ox yarn) and lichen dyeing. She is much inspired by the geometric designs in Navajo weaving and this shows in the patterns she designs for her rugs. Rosemary moved to Cody in 1994 and is now a professional weaver.