"War Paint Wapiti" Hand-Beaded Elk Skull
Maria D'Souza
A Massive Six-Point Elk Skull Set with 3 Rare Indian Paint Jasper Cabochons, Distressed and Tooled Leather, and Antique Copper.
$5,800.00
Custom Order
1 in stock
Ask the Artisan
About this piece
Maria D'Souza has mastered the art of mixed media by bringing together her beadwork with elements of the wild. This six-point elk skull with hand-beading is a stunning wall piece for any home or work space.
Details
Dimensions
20'' D X 34'' W X 52'' H
Weight
50 lbs
Additional dimensions
6 point
Color/Finish
maroon, black, dark brown
Made of
elk skull, beads, leather
Care instructions
Gently wipe with a clean cloth
Shipping & Delivery
White Glove
SKU
BSA001
Maria D'Souza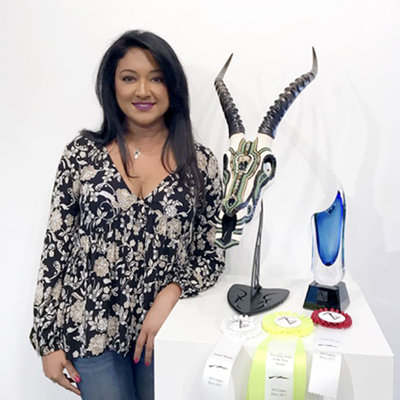 ABOUT THE ARTIST
Using European mounts of the world's most iconic animals as the raw form, Maria D'Souza combines design, color, and dimension to create pieces that stylistically range from western to contemporary. A true artistic innovator, Maria is known as the first & only artist to have taken this medium into the world of fine art. In January 2020 she had the honor of having her work added to the permanent collection of the prestigious Booth Western Art Museum, which houses the largest & most valuable collection of western art in North America. Her work is also part of The Monthaven Art & Cultural Museum collection in Nashville, TN.
Maria D'Souza's artistic inspirations are as varied as the cultures & places she has lived & experienced. Ethnically Portuguese and Indian, she has lived & studied art in such varied locales as Goa India, Portugal, London, Dubai, Thailand, The Turks and Caicos, & Bahrain. Having moved to the U.S. in 2012, she fell in love with the American West & the art forms & styles of the region.
Ms. D'Souza's works have been enjoyed by collectors, gallerists, & big game hunters in North America, Europe & the Middle East. Her award-winning pieces have been exhibited at other prestigious art museums as well, such as the C.M. Russell Museum in Great Falls Montana. In 2018 she was honored to create the signature Bison skull for the 50th anniversary of the Russell Auction. Maria is a proud member of 'By Western Hands' Artisan Guild in Cody Wyoming.