Spalted Maple Wall Art
Andy Sanchez
Wall art inlaid with marble and turquoise featuring two butterflies.
SOLD
Custom Order
Out of stock
Ask the Artisan
About this piece
Wall art inlaid with marble and turquoise featuring two butterflies.
Details
Color/Finish
Walnut, Brown, Burnt Orange
Made of
Spalted Maple, Marble, Turquoise
Care instructions
Gently wipe with a clean cloth.
Shipping & Delivery
Standard UPS
SKU
ASF007
Andy Sanchez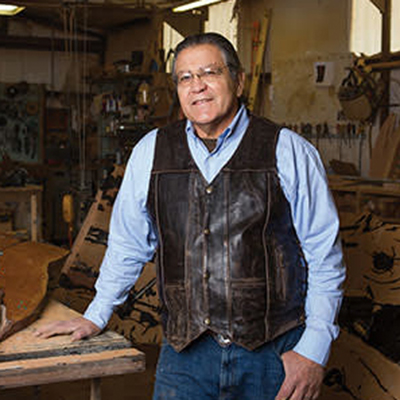 ABOUT THE ARTIST
Andy Sanchez was born in Belen, New Mexico. His father taught him the basics of woodworking and using tools as a child. As a professional, he began working with wood about 35 years ago. Starting with general construction, he later became a finish carpenter. Andy dedicated himself to a project in Maryland for five years with such attention to detail that it felt more like constructing a piece of furniture than a house. This launched his future career. Upon his return to NM, he decided to open his own furniture business. Andy, his wife, Cheryl, and their seven children, have all worked together to build their business. He began building in the Santa Fe style, following the heritage of his ancestors who came to New Mexico from Spain during the time of the Conquistadors. Gradually he began developing his own artistic style. He combined Santa Fe influences with mission and Stickley's style. He is innovative in his use of turquoise, marble, fossils, and stone inlay. Andy shows his work in art shows and galleries as far away as London. His work has been featured in many magazines, newspapers and the Home & Garden network. He is most proud of winning the "Best Western Spirit Award" at the Western Design Conference and the "People's Choice Award" at the former Cody High Style Exhibition.