Rocking Horse
John & Ian Gallis
Handcrafted wooden rocking horse.
SOLD
Custom Order
Out of stock
Ask the Artisan
About this piece
This beautiful horse would make a great birthday or Christmas gift. Handcrafted from walnut featuring a cushioned seat. Children can explore the west on this wonderful toy.
Details
Dimensions
12.5'' D X 33'' W X 26'' H
Weight
10 lbs
Color/Finish
Brown, Tan, Cream
Made of
Walnut, Jute Rope
Care instructions
Gently wipe with a clean cloth.
Shipping & Delivery
Standard UPS
SKU
JG019
John & Ian Gallis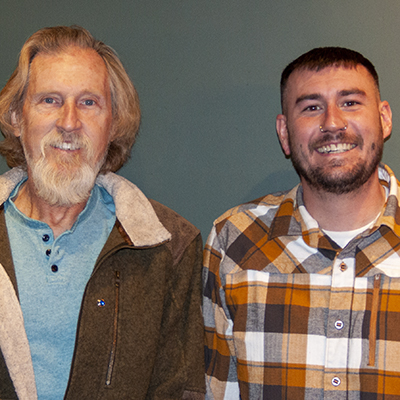 ABOUT THE ARTIST
A native of Long Island, John established a lucrative career building custom cabinetry for Bloomingdale's before moving west to Cody, Wyoming. He worked for a local furniture maker in town before opening Norseman Designs West, where he created his own line of awardwinning high-end western furniture. John combines the simple honesty of Shaker style with the flowing curves of Art Nouveau. Wood is his favorite medium; it is warm and forgiving, and he enjoys incorporating different textures into his pieces. He finds that each species of wood has its own unique scent and characteristics. He particularly likes working with walnut and juniper, as they blend well and complement each other. John searches out exotic examples of these woods, focusing on their figure and grain to enhance the overall look of the piece itself. He says he tries not to overwork the wood to be something it's not. John gains inspiration from nature and by studying the work of the masters, from Shaker to Stickley, from Art Nouveau to Cody's own Thomas Molesworth. John's son, Ian, has been working with him for the past fifteen years and plans to continue the Gallis legacy into the next generation. Whether crafted by the father or son, each Norseman Designs West piece is highly refined, elegantly composed, and decidedly original.