About this piece
One-of-a-kind poker table, it will be the talk of the evening on Poker Night. Elegant and classic.
Details
Dimensions
44'' D X 93'' W X 34'' H
Weight
500 lbs
Color/Finish
dark brown, black
Made of
walnut, juniper
Care instructions
Gently wipe with a clean cloth
Shipping & Delivery
Standard UPS
SKU
GK001
Gary Krauss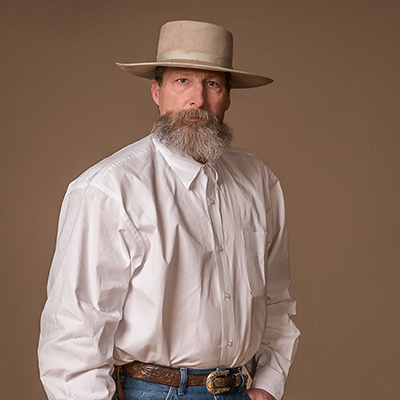 ABOUT THE ARTIST
Gary grew up in Grants Pass, Oregon, and despite flunking his first woodworking class (his dad was the teacher!) he now builds heirloom furniture during the winter months and buckaroos on big desert and Montana ranches in the summer. Though he uses exotic wood from all over the world, he says of the joy of working with tangled and curvy juniper wood, his favorite, "I don't know why I get so much pleasure out of using organic forms. It seems natural to incorporate the natural beauty of wood instead of trying to change it." Each piece Gary creates is an individual work of art. The wood is hand selected and matched for an overall presence and hand shaped to bring out the unique characteristics of the wood.