Leather and Cowhide Pendant Light Fixture
Keith Seidel
Carved Saddle Leather Trimmed Pendant Light Fixture
$9,286.00
Custom Order
1 in stock
Ask the Artisan
About this piece
Billiard or bar light in cow hide with carved saddle leather and trim. Four light bulbs hang from a metal frame.
Details
Dimensions
47'' D X 20.5'' W X 13'' H
Weight
20 lbs
Color/Finish
auburn brown, dark brown accents
Made of
saddle leather, light fixture
Care instructions
Gently wipe with a clean cloth
SKU
SS001
Keith Seidel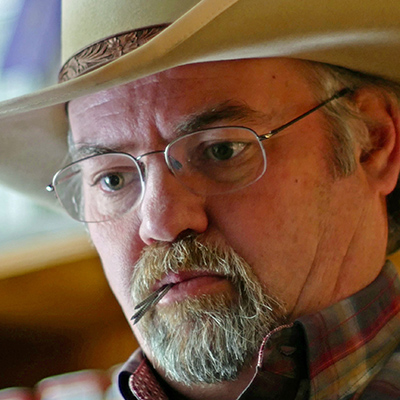 ABOUT THE ARTIST
A saddle maker and leather craftsman, Keith builds functional art pieces including saddles, briefcases, desk accessories, belts, gun leather, and a myriad of other specialty items in his historic downtown Cody location. With forty years of experience in leather work, Keith has built everything from plain working cowboy saddles to show saddles, and from performance saddles to fancy collector saddles. Every piece he makes is an individual work of art and a marriage of function and beauty. He has always had a love of horses and has ridden for trainers, packers, dude ranches, and cow outfits along the way. These experiences have given him the opportunity to study various saddles in action and has proven invaluable to his construction process. The decorative art part of the saddle, and hand carving and tooling of the leather are the most notable features of Keith's saddles. Keith still holds to the traditional cowboy way of life, and stresses performance is paramount.