"Chauma Hunter"
Dennis Friedly
Full-tapered tang hunting knife.
$2,200.00
Custom Order
1 in stock
Ask the Artisan
About this piece
Full tapered tang, premium stag, bolsters engraved by Gil Rudolph.
Details
Dimensions
9'' H
Weight
2 lbs
Additional dimensions
4 inch blade
Color/Finish
Steel, Auburn Brown , Cream
Made of
CPM154 Steel, Stag
Care instructions
Gently wipe with a clean cloth.
Shipping & Delivery
Standard UPS
SKU
DFK009
Dennis Friedly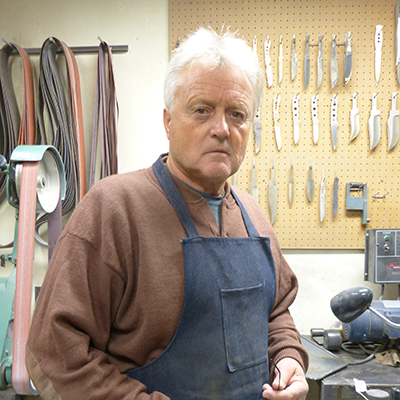 ABOUT THE ARTIST
Dennis was lucky to have found his passion early in his life, and has been making knives ever since. A resident of Cody, Dennis apprenticed to a master in the early 70's, and continues the traditions he learned under master tutelage by continuing to make one of the same kinds of knives. Dennis continues to innovate and develop his skills by making fixed blade hunters, bowies, daggers, camp knives, and folders. Dennis does all of the bladework, grinding, and buffing himself, while the embellishments are added by a range of engravers and scrimshaw artists. Ivory, including mammoth and ancient walrus, and exotic woods such as ironwood and tamarind are Dennis' favorite handle materials, and lend themselves well to carving and other embellishment. Dennis prides himself for the symmetry and crispness of his grinds. Even on the biggest of his blades, he is known for his free hand, flowing lines.