Carved Buffalo Bench with Hide
Tim Lozier
Bench with carved wooden buffalo heads and buffalo hide upholstery.
$4,500.00
Custom Order
1 in stock
Ask the Artisan
About this piece
Soft taupe microfiber upholstery, topped with a curly buffalo hide, make this bench a unique highlight in your entry way or living space. The elbow-height arms are crowned with a hand-carved buffalo head on each side, bringing a taste of the west to your home.
Details
Dimensions
22.5'' D X 41.5'' W X 30.5'' H
Weight
30 lbs
Color/Finish
Taupe, Tawny, Dark Brown
Made of
Microfiber Upholstery, Buffalo Hide, Wood
Care instructions
Gently wipe with a clean cloth.
Shipping & Delivery
Standard UPS
SKU
HK008
Tim Lozier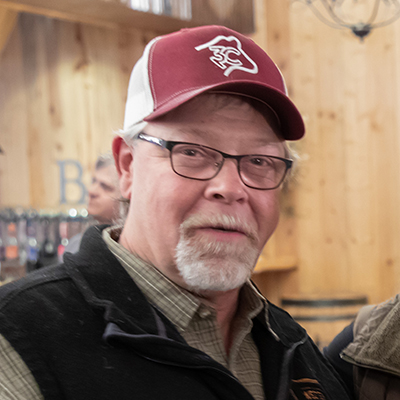 ABOUT THE ARTIST
To Tim Lozier, furniture means creativity. He was introduced to woodworking in junior high and participated in shop classes throughout high school. Upon moving to Cody in 1989, he started working as a sander at Sweet Water Ranch furniture. When Sweet Water closed in 1997, Tim opened his own shop. Initially Tim focused on building Thomas Molesworth reproductions, but gradually he started putting his own spin on the iconic style. Tim enjoys having creative freedom. He might make a rocking chair with appliedpole side panels, but apply the poles on just half the panel with an asymmetrical curve on a leather panel with a ranch brand. A high-backed winged armchair might have a Molesworth feel with applied-pole sides, but also feature sinuous curves of inset wood in a contrasting tone running through the vertical poles. A classic club chair might surprise with inset side panels of corrugated metal. Tim might put fringe or hair-on hide in unexpected places. But he also designs and builds pieces such as desks, tables, and sideboards that have a decidedly sleek, refined, and contemporary look — appropriate for varied settings, from rustic ranch to urban homestead. He says what he enjoys the most is finding ways to make an old style new.