Breifcase
Lisa & Loren Skyhorse
Hand-crafted and painted leather briefcase.
SOLD
Custom Order
Out of stock
Ask the Artisan
About this piece
Hand-carved and painted feathers on beautiful leather briefcase, embellished with a sterling silver eagle silver plate made by Silver King in 1960.
Details
Color/Finish
Dark Brown, Silver, White, Aqua, Black
Made of
Leather, Sterling Silver
Care instructions
Wipe with leather cream, occasionally.
Shipping & Delivery
Standard UPS
SKU
LS007
Lisa & Loren Skyhorse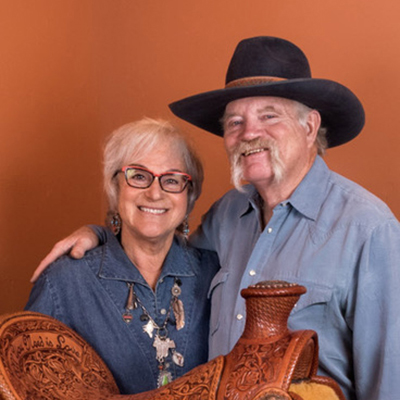 ABOUT THE ARTIST
Lisa and Loren are a full-time saddle maker team. Together they have built over 1,000 saddles since 1974! They've become known for a classically built Western Saddle with an elegant and contemporary flavor and ride. Each saddle is a one-of-a-kind heirloom piece. Lisa is known for her unique carving and painting, and Loren is famous for his silver and leather braiding. The couple's dedication to leather work has expanded into architectural work, wall art, and much more. Their other passion is traveling to nomadic horse cultures to work with the horsemen, bringing tools and supplies to locations as far as Mongolia, the Altai Mountains in Russia, and Peru. They have just been awarded a fellowship to Morocco to immerse themselves in traditional Moroccan leathercraft. Lisa and Loren have two children, two grandchildren, and live in Durango, CO with their three horses.